SKINNI MINI DRUM
DRUM OIL SKIMMER
Our SKINNI-MINI SKIMMERS are small oil skimmers with cogged polyurethane belts are similar to our MSB-A series, but come equipped with a small, "skinni" tail pulley that fits directly into the 2" bunghole of a 55-gallon drum. These floating drum oil skimmers remove floating oil from stored coolant or water, reducing hauling charges, improving evaporation or other wastewater processes.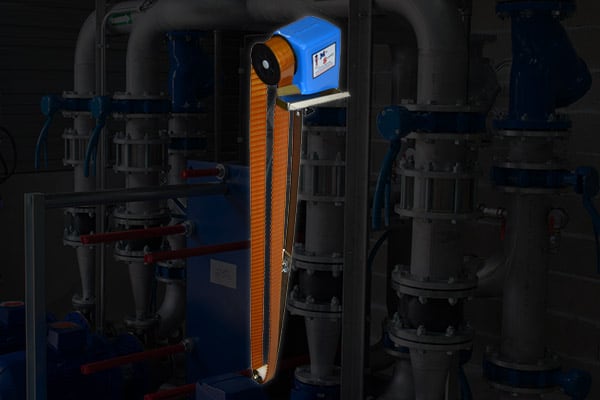 THE SKINNI-MINI FLOATING OIL SKIMMER COMES WITH OUR 24" REACH COGGED BELT AND OUR ACCESSORY PACK:
24-hour timer for running Skinni-Mini at specific times (night skimming!)
Ground fault interrupter (GFI) for electrical protection
Two-Foot Discharge Hose that fits perfectly on the scraper trough.
DETAILS OF OUR FLOATING OIL SKIMMERS
Mini-Skimmer drive envelope is tiny and portable – Fits in the palm of your hand!
PVC Splashguard to prevent liquid intrusion!
Collects up to a gallon of oil per hour
Works in temperatures up to 120°F
Reinforced belt last longer with no slippage on the drive pulley
Powder-coated tail pulley is secured with SS stabilizer bar
Corrosion-Resistant, Glass-Filled Nylon Drive Pulley
6′ Long, 16 Gauge, Three-Prong Power Cord
Easily mounts with two simple nuts & bolts (provided)
One year manufacturing warranty – just in case!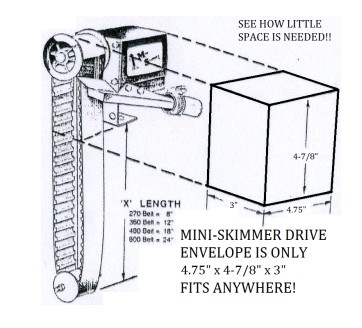 Skinni Mini


MODEL NUMBERS:
| Reach | Skinni 10RPM (1 Qt/Hr) | Skinni 30RPM (1 Gal/Hr) |
| --- | --- | --- |
| 24" | 36500 | 36501 |
Permanent magnet synchronous motors – the highest level of reliability
10RPM or 30RPM. Your choice. Same price!
Gears and extruded pinion conform to AGMA7 level quality.
115V/1/60Hz is standard (220/1/50, 220/1/60, and 24VDC also available)
180 oz.-in of torque (10RPM) or 64 oz.-in of torque (30RPM)
Durable polyurethane, reinforced with fatigue resistant fiberglass cords.
Non-conductive, non-stretch backing and teeth
L toothed 1" Wide, 60" circumference (24" REACH)
Meets the Rubber Manufacturers Association Standard IP24-1983