Mini-Skimmer T.S.
Oil Skimmer for Skimming Sideways
Wayne Products is proud to announce the release of the Mini-Skimmer T.S., our new tube-type oil skimmer for skimming sideways that is significantly smaller. Just as powerful as our previous tube skimmer. Tube Oil Skimmers are ideal when your tank has no overhead access and you need to skim from the side.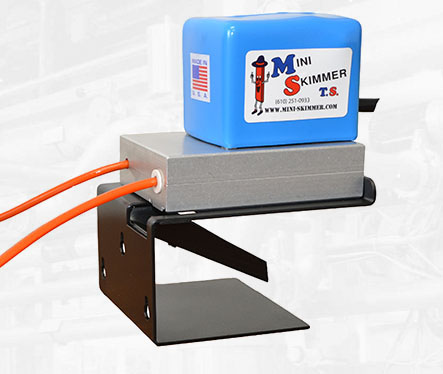 Tube Oil Skimmer Installation & Application
These tube oil skimmers install in seconds, mounting easily onto the side or edge of your tank and collecting 1 quart of oil per hour. Ideal for hard-to-access or enclosed sumps – skims under conveyors and across elongated surfaces! Only needs a 1/2″ x 3" cut out for access. Contact us for more information.
MINI-SKIMMER T.S. features:
PROVEN MOTOR – the T.S. uses the same reliable motor that has made Mini-Skimmer famous since its release in 1989. This unit will outlast the competition.
Anodized Aluminum housing for harsh, industrial environments.
Heat-Resistant, corrosion-resistant ceramic scraper that keeps chips from entering the housing.
Works in temperatures up to 120°F
10' long, three-prong power cord
2 foot long, 5/8" ID polyvinyl discharge tube
0.182" OD weighted PVC tube
Easily mounts with three simple nuts & bolts
One year manufacturer's warranty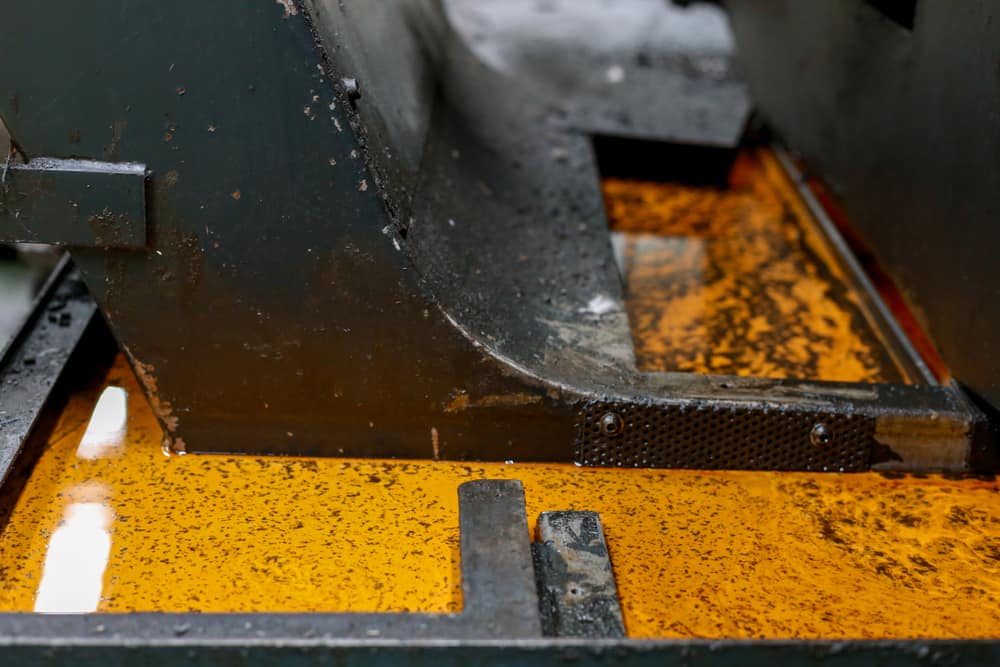 MINI-SKIMMER T.S. MODEL NUMBERS:
| Reach | 10 RPM (1 Qt/Hr) | 30 RPM (0.5 Gal/Hr) |
| --- | --- | --- |
| 8" | MSTS-10-8 | MSTS-30-8 |
| 12" | MSTS-10-12 | MSTS-30-12 |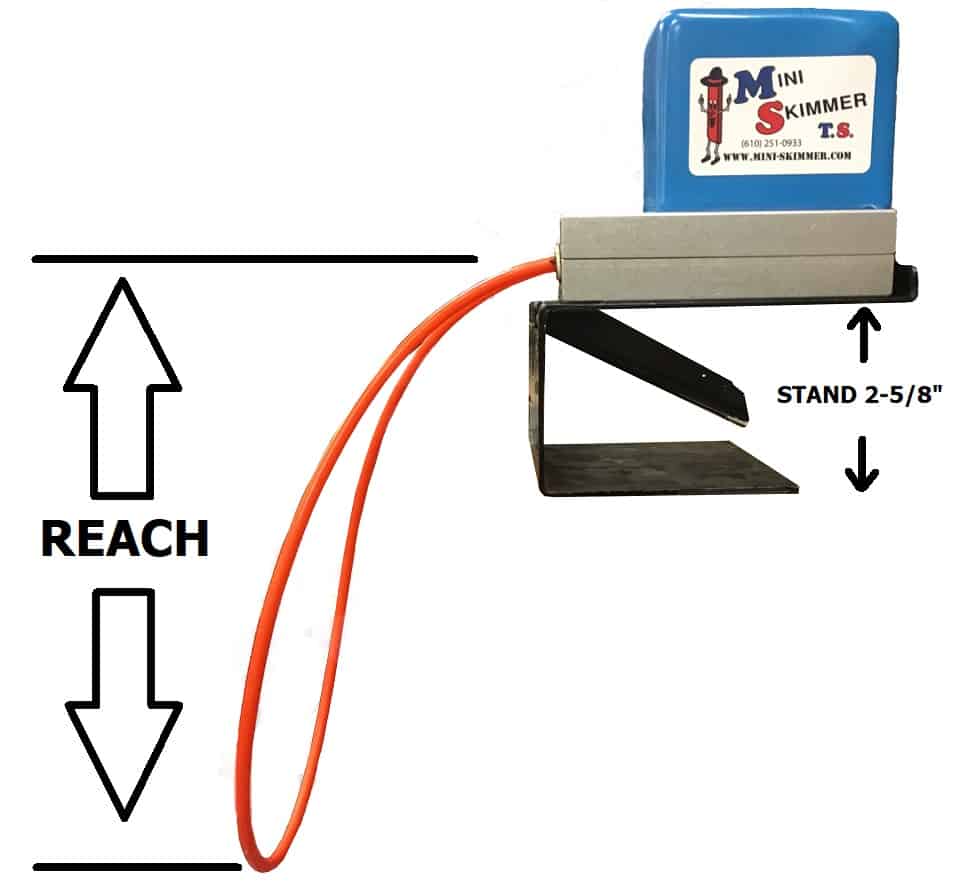 Permanent magnet synchronous motors – the highest level of reliability
10RPM or 30RPM. Your choice. Same price!
Gears and extruded pinion conform to AGMA7 level quality.
115V/1/60Hz is standard (220/1/50, 220/1/60, and 24VDC also available)
180 oz.-in of torque (10RPM) or 64 oz.-in of torque (30RPM)
Durable polyurethane tubing with ceramic washer
Heat-resistant, corrosion-resistant ceramic washer
Meets the Rubber Manufacturers Association Standard IP24-1983